Happy Friday everyone! A few weeks ago I signed up to participate in a Product Swap through
ScrappyGuy Designs
.
I was partnered up with Julie from
Math is Elementary
.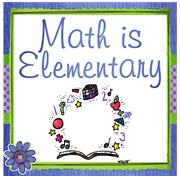 She sent me a math unit that you could leave for a substitute (or games/activities you could play with your students!) The packet is full of fun activities:
There is a fun game called Bump that I had never heard of before. The packet includes Bump numbers for addition and multiplication.
The packet also includes Bingo game boards that allow students to practice their math vocabulary.
The packet also has word problem task cards that the children can solve.
The last part of the packet contains two games of I have, Who has, one for addition and the other for subtraction facts.
This packet is perfect for end of second grade, third grade, and the beginning of fourth grade (review practice.) It is full of fun activities and games that can keep your math class entertained in meaningful practice while you are absent.
You can check out Julie's store
on TPT.
What are your favorite products/activities to leave for a substitute?