I had the opportunity to spend last night with four of my students from last year. One of their parents won an auction item which was "Pizza and Game night with Mr. and Mrs. Hunter." We had a great time playing games and eating lots of junk food. My husband is such a trooper...he makes me cool with the boys. :) While they were over we talked a little bit about some of their favorite things from fourth grade (they have had two weeks off.) One of the things they mentioned gave me the idea of today's post.
At the start of the school year I work to build my students stamina in writing. Even though the third grade teacher runs a writing workshop, she does not devote as much time to writing as I do. Add this to the fact that the kids have had a summer off and they need a little time to get use to writing 30+ min. a day.
To help the students adjust in a fun way I like to do
There's A Monster in my Room Activity
. I like to start this activity by reading the book
I Need My Monster by Amanda Noll
.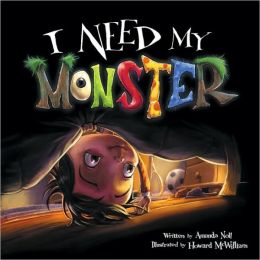 It is an adorable book that helps to get the students in a "monster mood."
In this activity the students draw a monster (in secret.) They then write a paragraph (or two) describing their monster. The key is telling the students to be as descriptive as possible. I let them know that the students goal is to write a description so well that someone could draw an identical monster. Then the following day we do just that. The students receive a classmates paragraph and try to draw the monster based on it. Once they are finished we compare the monsters (normally the next day.) It is a great way for the students to see how important it is to write specific details in an organized way. I wish I had pictures of them, but I wasn't blogging back in September so I didn't take any. I'll be sure to share some pictures this fall when we do it again.
The students love this activity because it gives them a chance to draw and write. I love this activity because it is so memorable. When the students need to be more descriptive or organized I am able to refer back to this activity and they remember it.
Even though I have used this monster activity for years, it is a new product to my TPT store.
I'd like to give a free copy to the first three people that leave their e-mail address in the comments below
.
What do you do to motivate your students? Link up with Joanne at
Head Over Heels For Teaching
to share your tips!
Don't forget to enter my 200 Follower Giveaway for a chance to win some great products.
Follow my blog with Bloglovin