Ahoy Matey! Happy
National Talk Like a Pirate Day
! I don't know about you, but my kiddos and I enjoyed ourselves today.
The celebration started this afternoon. We read my favorite pirate book,
Dirty Joe, The Pirate
by Bill Harley.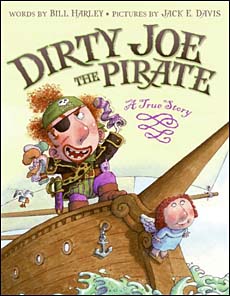 We then created our own
pirate names
, made pirate eye-patches, then we had to
Walk the Plank
while we practiced our pirate vocabulary. We also worked on a little
pirate math
thanks to my lovely
blogging buddy, Laura.
.
We then enjoyed our Pirate Booty (and cookies) and told a tale about our
parrot
.
So me hearties, what did you to for Pirate Day? Shiver me Timbers and link up below to share your tales from the day. (All those that link up will receive some pirate booty from me.)