I love the first Sunday of every month...it means I get to link up with
Collaboration Cuties
and share a favorite Language Arts Mentor Text. (I apologize now for my probable double post today...Currently will be out later today and I wouldn't want to miss it.)
The book I want to share with you today is one that I normally have my husband read on
National Talk Like a Pirate Day
(Sept. 19.) You see, my husband has a great pirate voice...so it makes it so much more exciting. Since he started a "real" job this summer the kids may be stuck with me reading the book to them this year.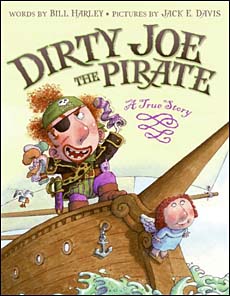 Dirty Joe, the Pirate: A True Story
by Bill Harley is a fun loving story about the pirate "Dirty Joe." He sails the seas in search of dirty socks! The kids get the biggest kick out of the story and find it absolutely hysterical when Stinky Annie comes on the scene looking for dirty underpants. The story has a bit of a surprise ending when you learn that Stinky Annie is Dirty Joe's older sister!
I love the language in this book. I use it to talk about word choice, alliteration, tongue twisters, and surprise endings. It is a book that the kids love to hear again and again. They laugh every time they hear it and enjoy "working" with the book because it is so fun.
Do you celebrate Talk Like a Pirate Day with your class? What are your favorite Pirate books to share with your students?
*Update-After talking with a few of you I am going to hold my first linky party on Sept. 19th. It will be open for the weekend following Talk Like a Pirate Day. It will be a place to show what you did with your classes. I hope you will join me.
Only a few more days to enter my Back to School Giveaway!
a Rafflecopter giveaway