Happy Sunday! I don't know about you, but it has been super hot where I am! I am so thankful for my air conditioners! I hope you have all been able to stay cool this week!
Since it is Sunday, I am linking up with
Collaboration Cuties
for their wonderful Must Read Mentor Text linky. I've learned about some fabulous books through this linky. It's like finding a new treasure for the classroom!
This week's topic is science, so today I want to share a book with you that my boys adore.
Gee Whiz! It's All about Pee
by Susan Goodman.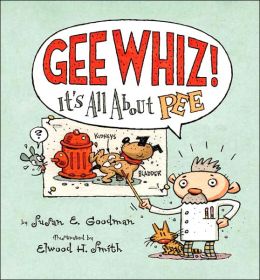 I have this book out in my classroom when we are studying our human body unit. It isn't a book that I read as a read aloud, but it is a book that I keep on my side table. The students are able to grab these books whenever they have free time or during Reading Workshop. Every year, I have at least one student ask me if they know this book is in the pile...they can't believe a teacher would encourage them to read something so weird.
Even though I don't read it to the kids there's a lot of interesting information in the book. It makes our study of an uncomfortable topic (for many students) funny and enjoyable. As we study the different body systems, students are able to share the things they have learned from our "side-table" books. Believe me this book creates interesting conversations! I love it because it shares facts in a fun way, and it gets my boys interested in our topic.
While I was looking for pictures of this book to put in this post I discovered that Susan Goodman has a great website with teacher lesson plans and activities for some of her books. You can visit her website
here
.
What Mentor Texts do you use to grab your students attention?