Happy Sunday everyone! I am back from my mini-vacation to Rhode Island and am excited to link up with
Collaboration Cuties
to share a Mentor Text with you.
This week we are sharing a favorite language arts mentor text. I want to share one of my favorites to use during Writing Workshop.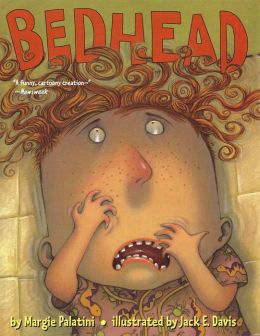 Bedhead
by Margie Palatini is a fantastic book to share with your kiddos near picture day. The story starts out with a boy named Oliver. He has bedhead....not just any bedhead, but the big-bad kind. The story shares how Oliver and his family try to get rid of his bedhead with very funny results. Things seem just fine until Oliver arrives at school (with his bedhead crammed under a hat) and discovers that it is picture day! I won't spoil the ending for you-but if you haven't read it, I highly recommend it. You kiddos will love it!
Once I have read this book to my students, I have them write down any "seed ideas" in their Writer's Notebook that they thought of when they heard the story. Many students will jot down an idea that has to do with a bad haircut, hair day, or picture day! I let the students quickly share their lists with their table group and then I normally have my students do a quick write-they pick one of their ideas and write for five minutes. When the five minutes are up, the students set aside their writing and we look at the story again. This time I show the book under our Elmo, and we look at the words the author used. This book has lots of examples of onomatopoeia, descriptive details, and dialog (just to name a few.) The students and I "notice" what the author is doing and then I have them try to do it in their quick write. It is a fun way for them to try a new skill in a very nonthreatening way.
Margie Palatini has a great website that actually has PDF's with teaching ideas on it. You can go
here
to check them out.
What are some of your favorite language arts mentor texts? Have any of you used Bedhead before?