Happy December 1st! I can't believe how fast the year is going! I hope those of you that had a few days off for Thanksgiving enjoyed it as much as I did. Since it is December 1st, I am linking up with
Oh' Boy 4th Grade
for Currently.
Most of my Currently is self-explanatory but a few things could use a little explanation.
Thinking: My birthday is tomorrow...hard to believe another year has passed. I can't help myself but my birthday tends to be the time of year that I evaluate myself...I find it is a good time of year to make new goals for myself.
My favorite tradition is something my husband introduced me to during our first Christmas together. His family makes giant homemade cinnamon buns on Christmas Eve to be enjoyed for breakfast on Christmas morning. Before we eat we sing Happy Birthday to Jesus and pray for our upcoming year. It's a nice tradition that I am looking forward to passing on. This year will be the first year that Glen's mom won't be making the Cinnamon buns...Glen and I will be taking over the tradition, it is sure to be a bittersweet time for us.
I also want to link up with
Collaboration Cuties
for their Mentor Text linky.
A book I like to use this time of year is
One Candle
. This book focuses on a family celebrating Hanukkah together.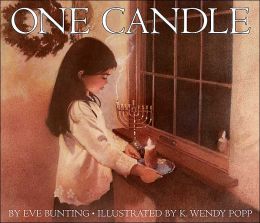 Even though I teach at a Christian school, with 0 Jewish children I still like to read this book. My students and I read
Number the Stars
together so this is a great book to have them make text-to-text connections. I also like to use this book to teach questioning. Because there are some heavy topics this book helps us generate a lot of great questions.
I also love this book because it helps my students learn about the awful parts of World War II in a kid appropriate way. I think it is so important to slowly introduce our students to some of the events of WWII and this book is a great way to do that. I also like that it teaches my students about another holiday that others celebrate.
What are your favorite mentor text to use to teach WWII? What books do you use to teach Text-to-Text Connections?
I also wanted to share the TPT sale starting tomorrow! (
Banner from Krista Wallden
)
I don't know about you, but I have a bunch of items in my wishlist. My entire store will be 20% off so when you enter the Promo code from TPT you will receive 28% off. Happy Shopping!