Those of you that read my blog regularly, know that we are in the middle of our electricity unit in science. The mentor text I want to share with you today is one that I will be reading to my kiddos later this week.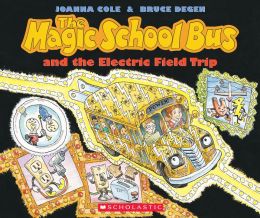 The Magic School Bus and the Electric Field Trip
by Joanna Cole is a perfect book to share with my kiddos during our unit. My students are very familiar with Magic School Bus books and videos. As fourth graders they have watched/read a lot of them over the years, but this one tends to be new for most of them. This books teaches how electricity travels through towns to light up our homes and the items in our homes.
After we read this story we will watch The Magic School Bus Gets Charged. It's a great way to review the parts of a circuit (and is perfect for my science class on Friday afternoon since I have conferences until 9pm on Thursday night! Anyone else have a ridiculous parent/teach conference schedule this year?) This video is on Youtube
here
. I actually bought the entire series of Magic School Bus videos for $39 this summer on
Amazon
.
What are your favorite science mentor texts? Be sure to check out the lovey ladies
at Collaboration Cuties
to find more mentor text suggestions.
That's a little
Peek at My Week
, head over to Jennifer's blog to see what some other bloggers are up to.